Presentations
Click below for direct downloads of two presentations from the day:
We are unable to share the videos used by Konstantin Kisin due to copyright.
Event report
Having already attended a large number of CIOL events during my many years as a member, I was quite taken aback when Pavla Dohnalová MCIL CL asked me to write a short article about my impressions of the Translating Division's Successful Business Practices in a Changing Market at Novotel London City South. I am certainly lucky to report on an event that offered much to be impressed with.
By way of an introduction, Jane Galbraith, CIOL Head of Membership, argued a strong case for the Chartered Linguist scheme. Newly overhauled and streamlined, this has now been made far more accessible in terms of administration and charges for obtaining chartership – definitely something to consider going forward.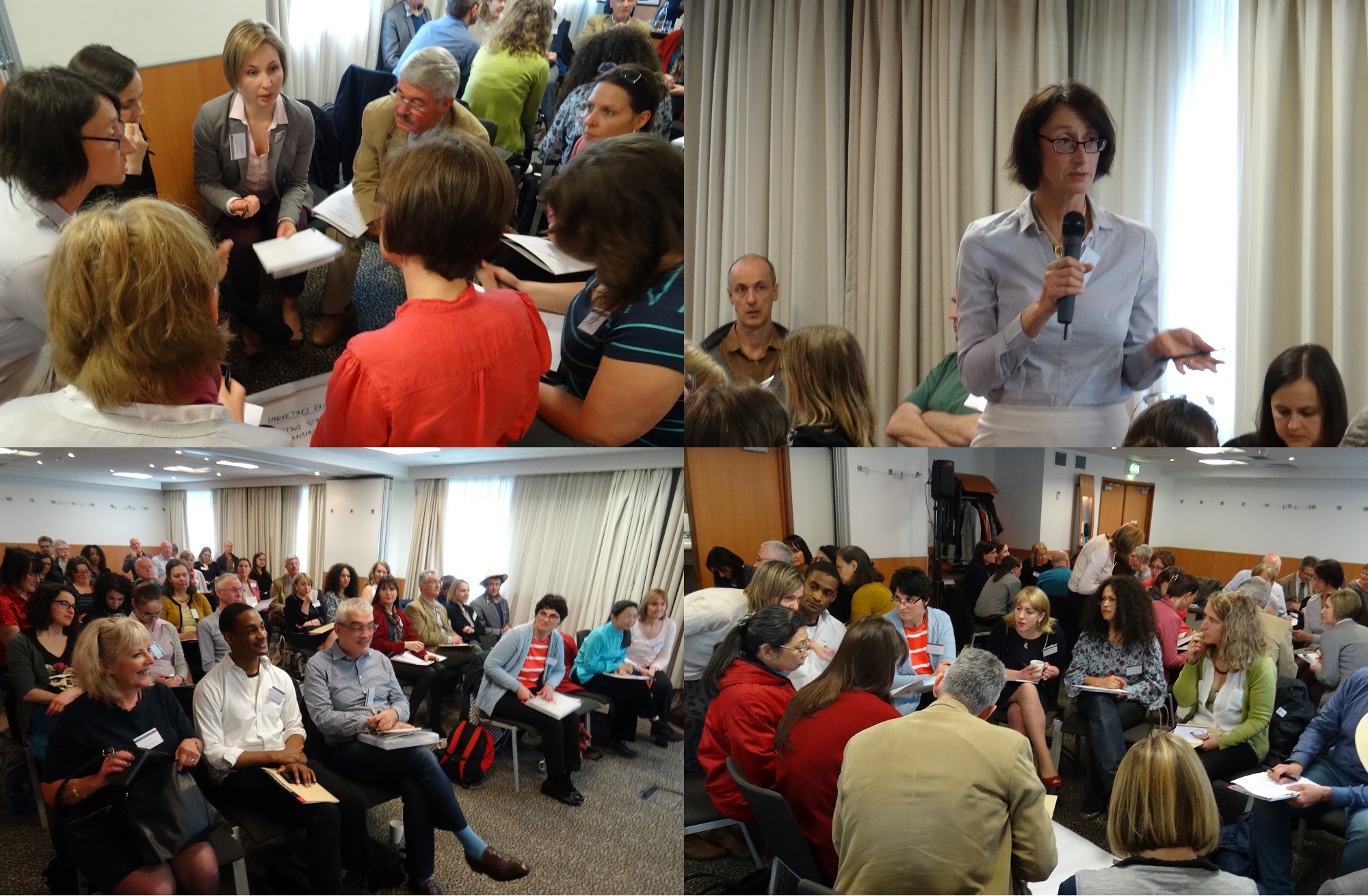 For the first presentation, Sue Leschen MCIL CL gave a detailed rundown of marketing strategies, tools and opportunities, and also on how to strike the right balance between work and marketing. The marketing workshop offered an opportunity to contribute our own thoughts. Five groups of participants each focused on one specific aspect of marketing. It was interesting to discover that everyone in our group, when briefly introducing themselves and their linguistic and working background, claimed to do no or barely any active marketing. However, once we started listing marketing tools, a surprising number of marketing measures emerged, from business cards and listings in professional directories via websites and email signatures to social networks. Marketing seems far more pervasive in our working lives than we realize.
After a networking lunch, Konstantin Kisin thoroughly dispelled any post-lunch stupor with his lively and engaging presentation style and offered some fascinating insights on negotiation and pricing. Negotiation, almost all of us agreed, meant several parties reaching a mutually agreeable outcome, although one interesting alternative was offered with "getting the other party to do what I want". Konstantin addressed how to approach a negotiation and how to determine which price to set. Particularly fascinating were his examples of some of the verbal techniques often used to bring a point across, such as connecting or juxtaposing statements, and the argument of how the perception of a person's status and value determines the leverage they have in a negotiation, as well as the tips on how to hold your own and ensure your worth is recognised.
Lastly, Charlie Owen of Russell New provided an overview of how, and when, the future digital tax system is expected to come into effect, how it will be structured, and how it will probably affect sole traders and small businesses. A short Q&A session with Charlie Owen, Ben Bingham and Richard Davis of Surrey Translation Bureau concluded a very informative and enjoyable event.
Ina Hohmann DipTrans MCIL
Original listing
This event is aimed at established translators. It will deal with issues including marketing, pricing and negotiation, some of which may have changed significantly since participants began practicing. It aims to help participants ensure they can maintain remuneration that reflects their experience and expertise and will feature advice on Making Tax Digital.
Summary
09:30 Arrival, coffee & registration
10:00 Introduction
10:15 Marketing: Presentation by Sue Leschen
11:15 Break
11:30 Marketing workshop (Sue Leschen)
12:30 Networking lunch
14:00 Pricing and negotiation: Presentation by Konstantin Kisin
15:00 Break
15:15 Making Tax Digital and Tax Planning – Presentation by Charlie Owen of Russell New
16:00 Question and Answer Session (Sue Leschen, Charlie Owen and a representative of Surrey Translation Bureau)
Speaker bios
Sue Leschen is a lawyer-linguist based in Manchester, UK. She is also the Director of Avocate, a niche market company selling legal and commercial French interpreting and translation services. Avocate also has a training arm and Sue is an independent trainer in the areas of legal terminology, professional conduct and ethics as well as being a one to one business mentor to new and experienced language professionals. She sits on CIOL's Council and also on the Professional Conduct Committees of NRPSI, ITI, RBSLI and NRCPD. Sue supports the need for properly qualified, insured and experienced language professionals.
Konstantin Kisin is a highly successful legal, financial and video games translator. A regular speaker on the business side of translation, Konstantin has extensive training in the psychology of communication and human behaviour, which he has shared with hundreds of translators through his popular webinars, online talks and conference presentations. Known in the industry for his original thinking, humour and passion, he is engaging, entertaining and informative in equal measure.
Charlie Owen, a chartered accountant and chartered tax adviser has worked in the tax profession for 20 years, dealing with a range of tax matters for owner-managed businesses, individuals and trusts. Charlie looks to ensure clients minimise tax exposure where possible, while keeping sight of wider commercial objectives.
May 13th, 2017 9:30 AM to 4:00 PM
Hotel Novotel London City South




53-61 Southwark Bridge Road




London

,

SE1 9HH




United Kingdom
Events +
| | |
| --- | --- |
| Category | Translating Division |
| | |
| --- | --- |
| Event image | |