​​​​​​​
What is the CertTrans?
---
The CIOL Qualifications Level 6 Certificate in Translation (CertTrans) is a degree-level qualification that provides benchmark evidence of practical working-level translation skills and knowledge.
This qualification has been developed with early career translation skills as its focus, with progression opportunities to higher levels of professional translation in mind for those wanting to work as a translator for translation companies or to build a career as a freelance translator. 
The CertTrans offers the opportunity to acquire a degree-level translation qualification, backed by the Chartered Institute of Linguists, which demonstrates the ability to work professionally in languages and which will also assist those who want to use their written skills in international organisations worldwide.
Click on the image below or here to find out more on our YouTube Channel.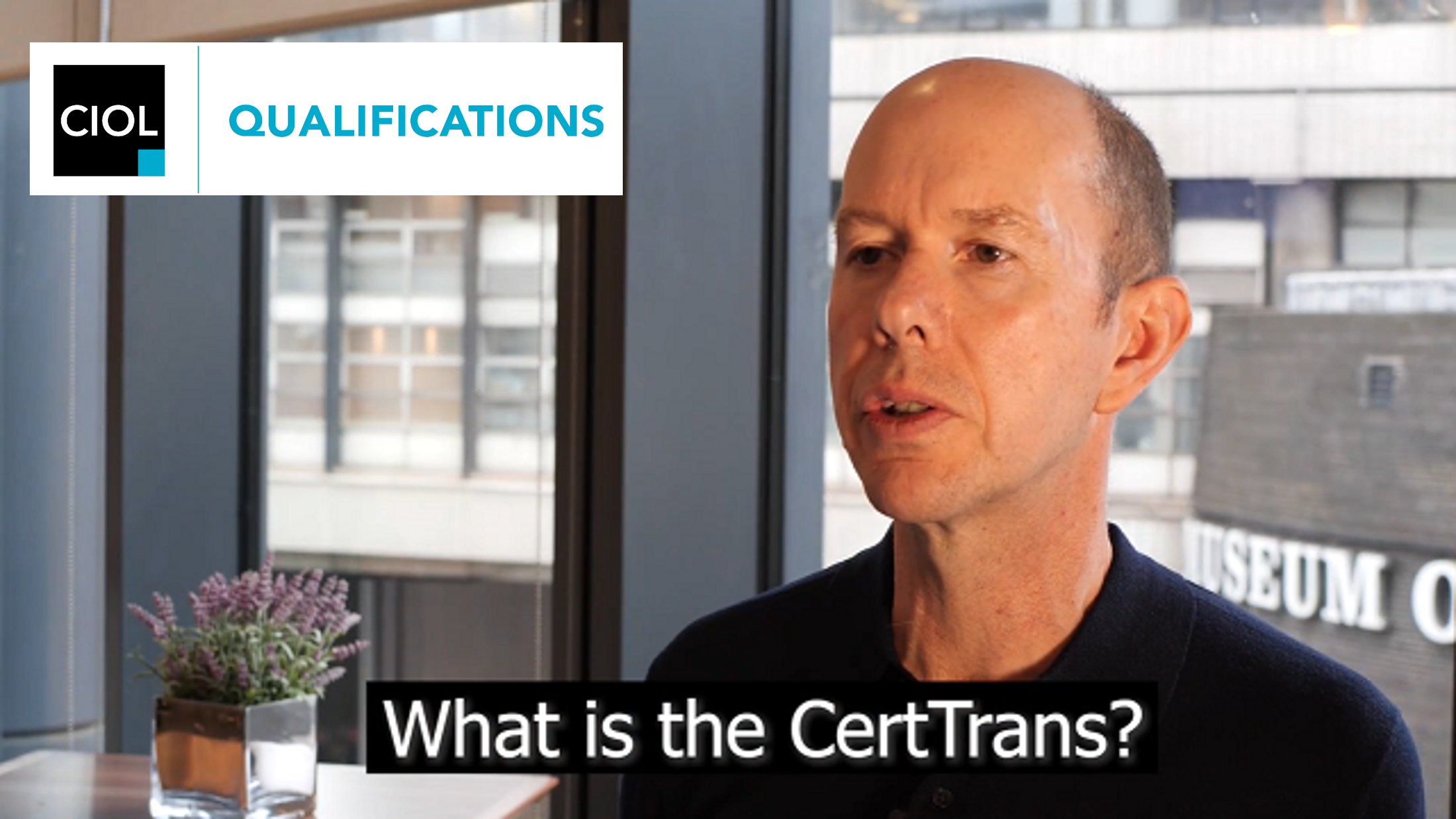 The CertTrans is set at a degree level and is aligned to the UK Regulated Qualifications Framework (RQF) and European Qualifications Framework (EQF) at Level 6. The qualification is also a stepping stone towards the CIOL Qualifications Level 7 Diploma in Translation (DipTrans) which is set at Master's level and is the widely recognised "gold standard" for professional translators worldwide. 
Is the CIOLQ CertTrans right for me?
---
The CIOL Qualifications Level 6 Certificate in Translation (CertTrans) is a benchmark qualification for anyone wanting a career working for language services companies, as a freelance translator or to work for international organisations worldwide. It meets the need for a working-level translating qualification.
CIOL Qualifications (CIOLQ) serves professional linguists, sets professional standards and provides qualifications for translators and interpreters which are recognised widely in the UK and around the world.
What are the benefits?
---
The CertTrans is regulated by Ofqual and others in the UK and is underpinned by the expertise and standards of the Chartered Institute of Linguists. It will improve your employability and career prospects.
With it you will be entitled to:
Use the post-nominals CertTrans after your name

Apply to join the Chartered Institute of Linguists as a member
​
What others say
---
"The CertTrans is a robust professional qualification for those starting a career as language professionals, or looking to validate their expertise with a formal qualification in the languages they practise in."
Raisa McNab, Chief Executive Officer, Association of Translation Companies

What is the qualification's structure?
---
The CertTrans is composed of three units:
Unit 01 - General Translation Skills

Unit 02 - Business and Commercial Translation Skills

Unit 03 - Government and Public Service Translation Skills
You must take two units to achieve the qualification. Unit 01 is the mandatory core unit which must be selected, then you need to select one other mandatory option unit from either Unit 02 or Unit 03.
What format does the assessment take?
---
The assessments are taken online from your home via our CIOLQ Online Virtual Centre and are available in the UK and internationally across all timezones.  Candidates will translate from a source language into English or from English into a target language. The passages set for translation will be of a standard of difficulty that translators at this level would expect to meet in their daily work. 
What languages are available?
---
The CertTrans is currently available in:
Languages offered into English (target language):  
Arabic (MSA), Chinese, French, German, Italian, Russian and Spanish
English (source language) into:  
Chinese, French, German, Greek, Italian, Portuguese, Romanian and Spanish
Expanding availability into further language combinations will be considered based on candidate and employer interest. Italian both ways was launched in 2023 and Russian into English has been added also, as have English into Portuguese and English into Greek based on recent candidate expressions of interest. ​​​​​​​
The best advice from course providers and tutors is always to look at past papers. Past papers are available here.
If you are thinking of taking the CertTrans in the future or are interested in other language combinations, you can express an interest, sign up to be kept up to date and tell us more about your plans here.