Event report
CIOL Lincolnshire Society AGM 2018 – Chairman's report
Thank you all for coming to the AGM, on our very special twentieth anniversary. We are delighted that Ann Carlisle, the Chief Executive of CIOL, has joined us to celebrate our 20 years of existence as a Society. Ann will propose a toast and give us an update on the Institute.
We are very pleased to have with us today Stephen Eden, formerly Head of Publicity and Membership of the Institute of Linguists, who attended the Inaugural Meeting of the Lincolnshire Society on 22 June 1998 and Dr Gershom Knight, who was Chairman of the first Lincolnshire and Humberside Regional Society, which ran from 1988 until 1991.
We are also delighted to welcome our speaker, Frances Parkes, who has been a voice coach for 15 years. The title of her talk will be 'Max Your Voice'. We greatly look forward to hearing her speak later.
There have been many changes to the way we operate as a Society in the past twelve months. New financial, promotion and marketing processes were introduced, with greater control being taken by Head Office; data about Society members has been transferred to Head Office in preparation for the new General Data Protection Regulations. I hope you like the improved way our meetings are advertised and the new booking system through Eventbrite. Another recent change is that our events will no longer be listed in The Linguist, but only online in future. It was therefore a particular pleasure to be invited to write an article about the history of the Lincolnshire Society over the last twenty year and I am grateful to the Editor of The Linguist, Miranda Moore, for giving me that opportunity.
We should like to thank the Chief Executive and the staff of CIOL very sincerely for our grant, without which we could not exist, and for their huge support and patience throughout the year. I must make especial mention of Jane Galbraith, Head of Membership, and Jack Sellen, Systems Development Manager, who have worked so hard to lead us into the new system and website arrangements.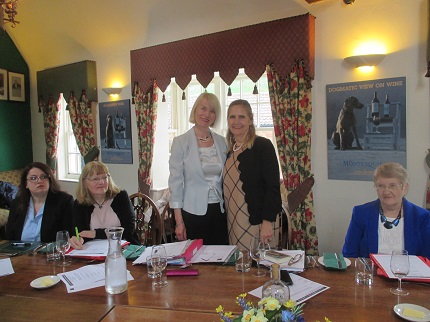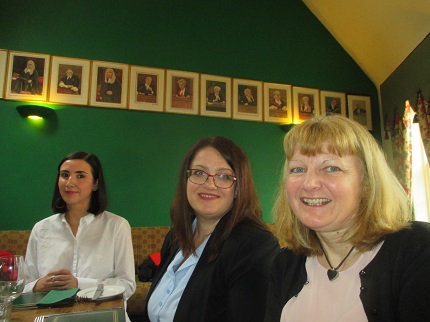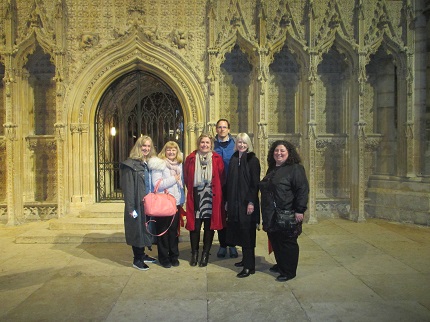 ---
In addition to the Annual General Meeting of the Lincolnshire Society and a celebratory lunch to mark its twentieth anniversary, this special day will include a session called "Max Your Voice - find out more about your voice quality and how to exploit it", with Frances Parkes.
This session will focus on how voice and speech are produced in the body, how it is amplified and the most efficient way to project it. Frances will also teach us to use our voice in an unforced, dynamic way and introduce techniques such as the basic Grotowski voice exercises. She will also lead exercises specifically created for interpreters.
Programme
11:00am AGM – All welcome
11:30am Welcome – Candia Hillier, Chair, Lincolnshire Society
11:40am Prosecco toast/update – Ann Carlisle, CIOL Chief Executive
11:50am Pre-lunch networking
12:00pm Lunch (delegates to select their own menu choice and pay on the day)
1:30pm Talk 'Max Your Voice' – Frances Parkes
2:30pm Questions
3:00pm Vote of thanks and close – Candia Hillier, Chair, Lincolnshire Society:
3:00pm Networking
3:30pm Tour of the Cathedral – Optional - delegates wishing to attend must book and pay (6.40) in advance via Eventbrite
5:30pm Evensong – Optional and free of charge
7:00pm – 10:00pm
World class brass band Black Dyke Band are performing at Lincoln Cathedral; delegates wishing to attend can find out more information and book online: www.blackdykeband.co.uk/events/lincoln-cathedral
Booking
For further information please contact the Chair, Candia Hillier MCIL (lincolnshiresociety@ciol.org.uk). CIOL members, non-members and guests are all welcome at our events. Please inform us at least one week before this event if you would like to attend, as we need to notify the restaurant of our numbers in advance. Please also let us know three weeks prior to the event if you require wheelchair access or any additional requirements.
Accommodation
For information on getting to Lincoln, places to stay and things to do please visit https://www.visitlincoln.com/
April 28th, 2018 11:00 PM to 4:00 PM
Steep Hill Room




Wig & Mitre


30 Steep Hill


Lincoln

,

LN2 1TL




United Kingdom
Events +
| | |
| --- | --- |
| Category | Lincolnshire Society |
| | |
| --- | --- |
| Event image | |