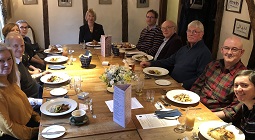 On 23 November 2019, Lincolnshire Society members met at the Wig & Mitre in Lincoln. The Christmas lights in Lincoln had been switched on, giving Steep Hill and Castle Square a festive air. After a delicious lunch, members were guided through the ways in which Shakespeare plays became known outside England, in Europe. Ian told us how a visit to Stratford-upon-Avon in 2017 had rekindled his interest in the history of Shakespeare and his plays. He described how groups of strolling players chose temporary exile in Europe due to an unfavourable political climate in England and gave performances in market squares, churches, fencing schools and churchyards. The speaker told us about the building of the first permanent theatre by Maurice the Learned, named the Ottoneum, in Kassel in 1605. Ian also led us through the development of the language associated with the plays, from a sprinkling of local phrases, to local speaking people explaining the drama, followed by trained native speaking actors playing the parts. One hundred and fifty years after the first comedians arrived on the continent, the first translations appeared. Ian also talked about the situation in France and how the increasing popularity of Shakespeare rivalled that of Voltaire. Examples by prominent translators of original translations of Shakespeare into French and German were handed round, with their re-translations. The talk ended with a question and answer session.
---
This presentation will trace the surprising and, sometimes, circuitous routes by which the plays of Shakespeare became known in other countries and permeated European and world literature. Ian Smith will start from the earliest, most rudimentary renderings to arrive at those translations which have become the accepted, authoritative standard used for stage productions today.
Prior to the presentation, attendees are welcome to join the committee for lunch (at their own expense) at the Wig & Mitre.
Speaker bio
Ian Smith
Ian was born in South Yorkshire but made in Exeter, Freiburg-im-Breisgau and Leeds where he studied German and Music, Germanistik and Anglo-German Literary Relations respectively. After a brief dalliance with the world of commerce, he returned to education and taught languages for most of his career at a Lincolnshire grammar school before retiring to pursue varied linguistic and literary pursuits.
November 23rd, 2019 12:00 PM to 4:00 PM
Steep Hill Room




Wig & Mitre


30 Steep Hill


Lincoln

,

LN2 1TL




United Kingdom
Events +
| | |
| --- | --- |
| Category | Lincolnshire Society |
| | |
| --- | --- |
| Event image | |