Event report
By Irene Corchado Resmella
A successful event ticking all the boxes
I believe the three key elements that make an event are great speakers, a practical approach and time for questions and discussion. The event, given by CIOL's Translating Division, ticked all three boxes.
The presenters, Sue Leschen, Richard Lackey and Maeva Cifuentes, are knowledgeable, experts in their field, and shared what only years of experience can provide.
The practical approach offered by this event included advice, do's and don'ts, real examples and personal anecdotes, leaving us with a head full of ideas and a notebook full of notes of things we can put into practice.
They shared tons of tips, suggestions and good practices related to anything from the common problems which arise in legal translation to the role of the translator when interpreting the meaning in a legal text, and when to use footnotes. In addition, the afternoon session included two practical exercises related to briefings and stylistic differences.
Questions and discussion
The event provided plenty of room for questions and discussion. The presentations kept the audience engaged at all times, asking numerous questions and sharing opposing views on different topics. The questions unfortunately ran into Sue Leschen's presentation time which meant she could deliver only the first one of her two presentations. (Her second presentation has since been sent to attendees.)
In the two practical sessions, we started by discussing exercises in groups, and then sharing outcomes between groups.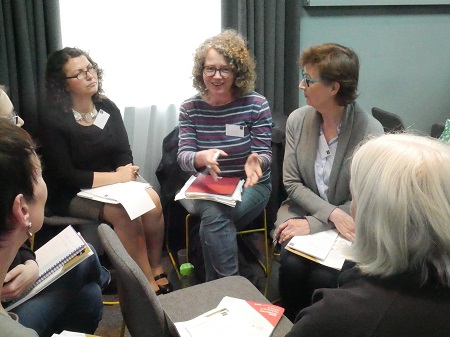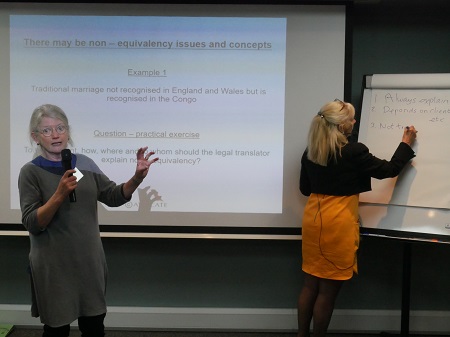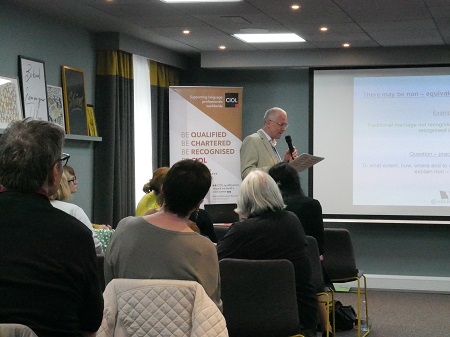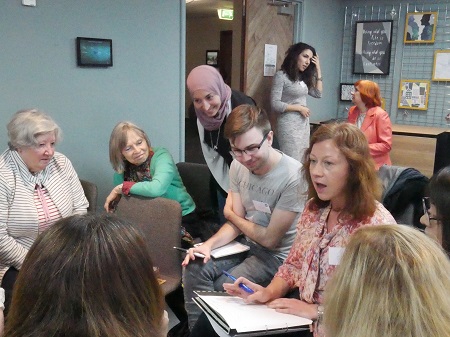 ---
Following the success of the "Legal translation for the terrified" events held in both London and Manchester, this new event is aimed at more experienced translators wishing to advance their legal translation skills. The programme consists of a mix of presentations and practical workshops delivered by three professional legal translators.
Programme
9:30-9:55
Arrival and registration
9:55-10:00
Welcome and housekeeping/organisational matters
10:00-11:45
Part 1: What legal translation is and isn't – presented by Sue Leschen
It is legal translation
It is not (exclusively) financial translation
It may be combined e.g. medico - legal translation
It may involve several different legal systems and procedures
There may be non - equivalence problems
The importance of precision over general meaning
Q&A
11:45-12:00
Short break
12:00-13:00
Part 2: Dabbling, specialising and becoming an expert in legal translation – presented by Sue Leschen
Initial training - linguistic and legal
CPD - a must in this area
CPD and CPD - good, bad and indifferent
Proof-reading - another must
Preparation, research, resources and glossaries
Becoming an expert legal translator
Q&A
13:00-14:00
Lunch
14:00-14:30
Introductory talk by Maeva Cifuentes and Richard Lackey on the issues faced when choosing a translation style and why this is important. Find out more about Maeva and Richard on their podcast.
14:20-15:15
Exercise 1: Work in groups. Defining a brief and making intentional style choices based on purpose and context
15:15-15:30
Short break
15:30-16:20
Exercise 2: Pair work looking at stylistic differences between two translations of a more complex contract
16:20-16:30
Closing presentation with the final results from our survey
Speaker bios
Sue Leschen FCIL Chartered Linguist
Sue is a lawyer-linguist and also the Director of Avocate, a niche market legal and commercial French interpreting and translation company in Manchester, UK. Sue is a hands-on interpreter and has been interpreting in courts and tribunals since 2002. She is also an independent legal terminology trainer and a one to one mentor and business guru for language professionals. Sue sits on the Professional Conduct Committees of NRPSI, NRCPD, and RBSLI and is also a member of CIOL's Council, CIOL's Interpreting Division and also CIOL's Equality, Diversity and Inclusion committees.
Maeva Cifuentes
Maeva is a legal translator and copywriter working from Spanish and French into English. She translates mainly contracts and marketing materials for law firms and businesses. Maeva is interested in the translator's role in the choice of legal drafting style and in the stylistic balance that leaves both the translator and the client satisfied.
Richard Lackey
Richard is the owner and director of Contractually Speaking Ltd and an experienced legal translator. Having worked and trained in translation in Colombia, France and Spain, he brings a wealth of knowledge on translating from various jurisdictions. Now London based, he continues to work closely with clients to provide translations of contracts, legislation, court rulings and marketing copy. Richard is a qualified member of the Institute of Translation and Interpreting (ITI), sits on the ITI Spanish Network committee, and is a regular contributor to the bimonthly ITI Bulletin on topics such as legal translation, translation technology and co-working.
May 18th, 2019 9:30 AM to 5:30 PM
Hotel Novotel London City South




53-61 Southwark Bridge Road




London

,

SE1 9HH




United Kingdom
Events +
| | |
| --- | --- |
| Category | Translating Division |
| | |
| --- | --- |
| Event image | |