Event report
Anyone who travels up the M40 and notices a large multi-coloured building near Bicester may have wondered what it is. The HQ of a software company, a logistics centre? No, it is a waste processing and energy recovery centre run by Viridor, which handles the non-recyclable waste we put in our bins and then hope to forget about. The company never lets 'waste' go to waste and instead transforms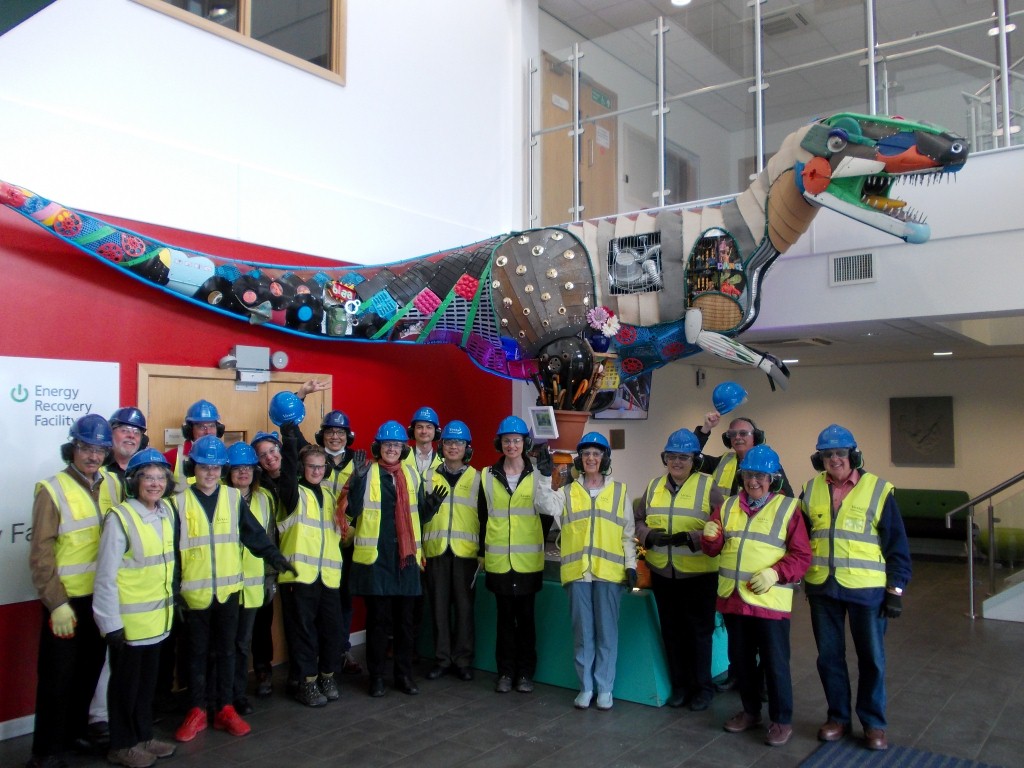 it into quality recycled materials and vital renewable energy – sustainability in action.
Viridor kindly agreed to host our visit on a Saturday and we were treated to a most interesting afternoon. A group of 18 members and guests gathered for lunch. Traditionally, industrial visits have always been popular with BPG members who are also translators. However, on this occasion, one of our long-standing members was a bona fide expert in waste management, using language skills to work on various European waste recycling projects – yet another area of work where languages are an essential tool of the trade.
The visit started with a fascinating talk by Jess Baker-Pike of Viridor's Education and Visitor Centre. She explained the various processes required to turn a bin lorry full of refuse into energy and recover anything of use afterwards. Rubbish may not be high-tech but the skills required to process it definitely are.
The visit finished with a walk round the plant where we could see the impressive machinery first hand and view inside the furnaces producing the energy. In an age when there seem to be so many environmental problems, it was encouraging to witness a success story.
Alison Garne MCIL
Original listing
Viridor runs a £205 million energy recovery and recycling facility near Bicester, processing a wide variety of materials, including plastic, wood, metal and food waste. The site does not just save a massive amount of landfill: it generates power for 38,000 homes.
It is operated and controlled by computers, which are connected by over 250 km of cabling around the plant. During the group tour, you will see the 5000-tonne bunker and learn how the facility functions. If you are curious about what happens to household waste, this visit will be for you. If you are a translator working in the field of waste management, it will offer first-hand insight into the industry.
As Viridor is an industrial site, we have been asked by our hosts to comply with certain health and safety requirements:
Sturdy shoes (safety boots and other personal protective equipment will be provided, where appropriate)
Clothing: Long sleeves and legs covered (full-length trousers or leggings)
Any cuts or open wounds to be covered by waterproof plasters
Visitors are not allowed to bring food and drink on to the site.
Visitors must be able to walk 570 paces and climb 94 steps.
Our hosts have also asked us to provide emergency contact details and notify them if visitors have any health conditions that need to be taken into account. Visitors will be required to complete a brief form after registration.
Access to Viridor can be by car (it is near the M40, and parking is available on site) or by group taxi from Bicester Station. We will send full details upon registration. Should you be travelling by train to Bicester North, we are happy to co-ordinate the taxi journey from the station to Viridor. The cost is likely to be around £10.00 for 4 people.
The day will start with refreshments at 12:00, followed by a buffet lunch. The guided tour will start at 14:00 and last about 2 hours.
May 20th, 2017 12:00 PM to 4:00 PM
Viridor Ardley ERF




Middleton Stoney Road


Ardley


Bicester

,

OX27 7PH




United Kingdom
Events +
| | |
| --- | --- |
| Category | Business, Professions & Government Division |
| | |
| --- | --- |
| Event image | |