Event report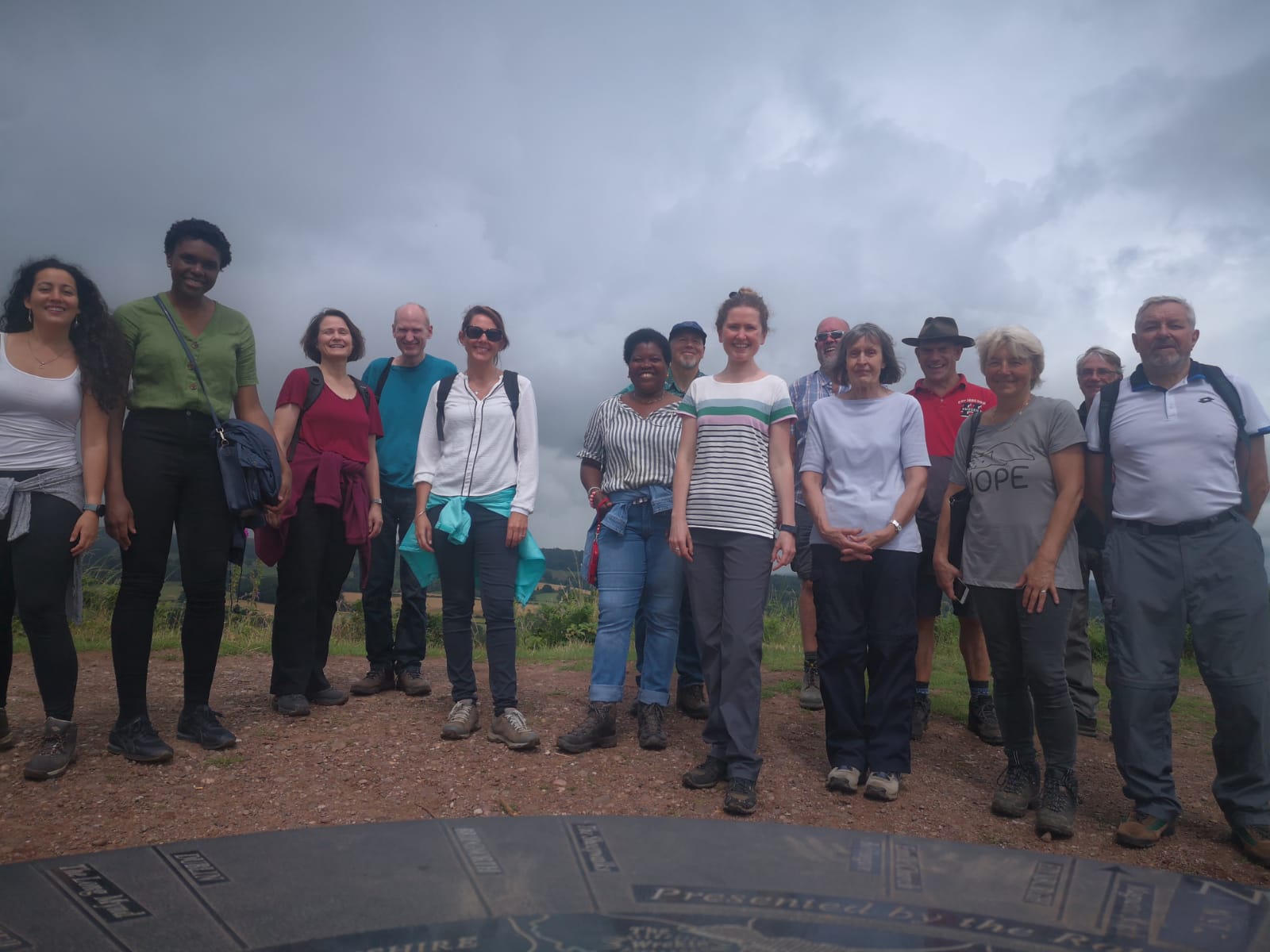 As a member who has been following all the varied and stimulating activities put on by the CIOL Midlands Group over the last 18 months, but for various reasons has not joined in before, I was very pleased to be allowed to join the walk at short notice when some stalwarts of the group had to drop out. I was looking forward to enjoying a new location and meeting some kindred spirits for the first time.
The weather forecast was atrocious, with heavy rain promised for the middle of the day by all the main weather apps. So, the organisers were clearly gratified that 15 people nevertheless assembled at the start point for a not-too-strenuous walk around an area that boasts some fascinating geology, as well as some prime examples of modern cave dwellings.
Kinver Edge is a sandstone escarpment, formed in the Triassic Period. It is now an attractive mix of heathland and oak woods. The views from the end of the ridge towards Shropshire and the Black Country were impressive; and it was both easy to understand why an Iron Age fort had been established in such an easily-defendable position and, indeed, to see the contours of the settlement.
But the highlight, in terms of human interaction with the landscape,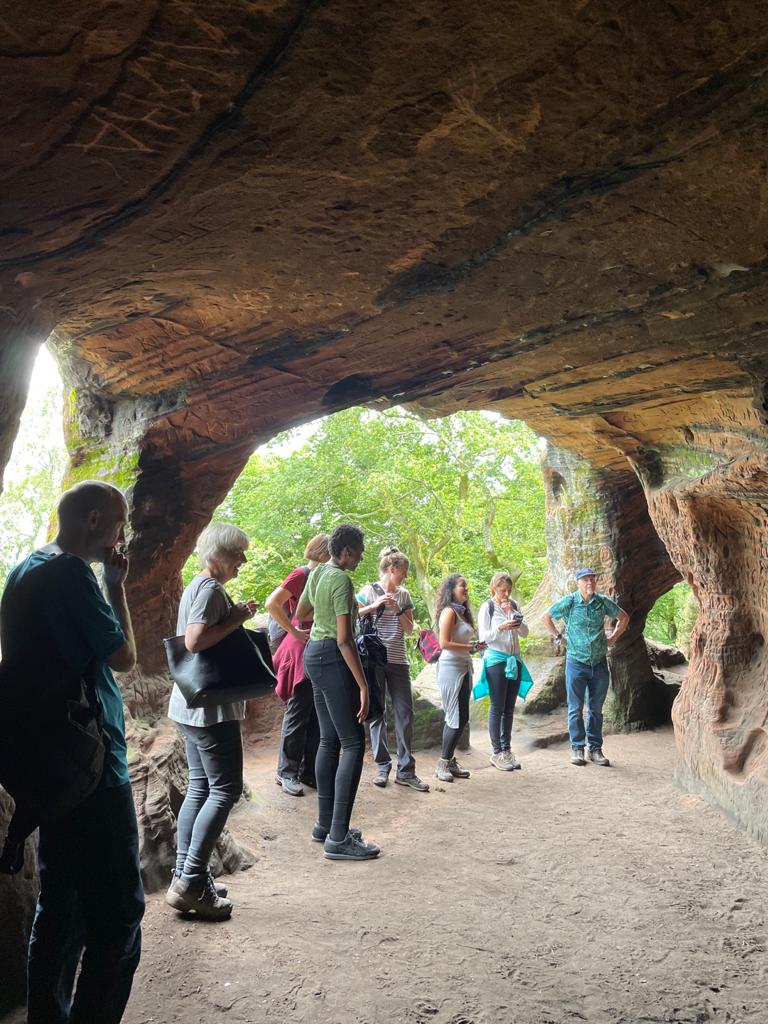 was definitely the troglodyte (gotta love that word!) dwellings. The soft sandstone lends itself to the shaping out of rooms, and the group got a sense of how one might live in a cave at Nanny's Rock, whilst also admiring the carved graffiti and speculating on when a public nuisance becomes a work of art; and later saw the attractive Rock Houses, which were inhabited right up until the 1960s.
The rain held off for all but the last 20 minutes of the walk, and was indeed as heavy as promised; but was not allowed to put a dampener on the day, as we then went for lunch at a pleasant lock-side pub. There were at least 4 different first languages amongst the group members, with a consequent cosmopolitan perspective to the wide range of topics of conversation. And yes, we talked shop too! (Although not so much as to irritate or exclude my non-linguist partner.)
After so many months of relative seclusion, this was an excellent way to start socialising again, and I thoroughly enjoyed the internationalism of the group and the conversation. Peter and Janet Baron had clearly taken great pains to put together an interesting and enjoyable walk, followed by an excellent opportunity to eat, drink and discuss – my/our thanks go to them.
Sue Webber MCIL
---
A fairly short and easy walk of some 3½ miles over Kinver Edge, visit to Iron Age fort and Kinver rock houses* before descending into Kinver village for lunch.
Gentle uphill slopes with one steep descent.
*Note: National Trust Rock Houses and café free to NT members, otherwise £5
Please email to confirm your attendance
Programme
10:30am – Meet
Kinver Edge parking, Sandy Ln, Kinver, Stourbridge DY76HU (junction of Comber Road, Sandy Lane and Church Road)
11:00 – Start the walk
1:00 – Lunch at pub
July 4th, 2021 10:30 AM to 1:00 PM
Sandy Lane




Kinver, Stourbridge

,

DY7 6HU



Events +
| | |
| --- | --- |
| Category | Midlands Network |
| | |
| --- | --- |
| Event image | |