You too can use your language skills in a steel works, on a ship, as a recycling consultant or as a trade delegate….
CIOL members gathered recently in London for a very enjoyable networking lunch where they heard how language skills can be used to develop rewarding careers in business, consultancy, and government service.
This was the first event of this type, at which language practitioners in the Business, Professions and Government Division (BPG) of CIOL shared their career experiences during a delicious and relaxed buffet lunch. One of the objectives was to give fresh ideas to new linguists or those seeking a change in direction.
The White Haus in Farringdon was the delightful venue for the event, held on Saturday 18 January. During lunch, members of BPG's Steering Group spoke about how their had used their language skills in their careers:
Judith Ridgway spoke of the vital role of languages in forging relationships and engendering mutual understanding whilst representing an Austrian steel company in the aerospace sector.
Richard Stanton outlined his career as a linguist officer in the Royal Navy, which led to a role with an international institution.
Gill Bevington explained how, after a period working in other countries and working in various roles in the UK, she used her language skills to develop expertise as a consultant in recycling policy.
James Farmer described how his fascination with Japan and its language led to leading roles as a civil servant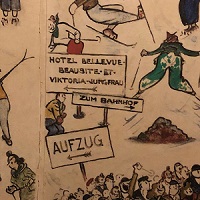 involved in international trade and industry.
Participants continued exchanging views and experiences long after the scheduled closing time for the event. They have asked for more similar events, which the BPG Division plans to organise.
Future networking lunches will provide more opportunities for CIOL members to share their experiences, highlight the versatility of language practitioners and hopefully to inspire fellow linguists.
The BPG Steering Group would like to express thanks to The White Haus for their excellent service, and to all who attended for contributing to a worthwhile and enjoyable afternoon. Judging by the fascinating wallpaper on the staircase, which included phrases in French and German, they must have known we were coming!
---
Come and join BPG members of all membership categories for a sumptuous buffet lunch at The White Haus and hear a number of verbal 'pen pictures' of how language practitioners have used their skills as language users or language facilitators in the front line of heavy industry, the military, trade missions, education and other areas. The meeting will provide valuable networking opportunities and may offer additional food for thought in terms of openings for language practitioners. The cost of the buffet will include an initial drink.
Programme:
12.30pm Arrival
1.00pm Buffet
After the first course of the buffet there will be an opportunity to hear from two or more language practitioners
1.30pm Continue with buffet
There will then be an opportunity to hear from other language users
2.30pm approx. Event draws to a close, with a Question and Answer session involving the language practitioners who have outlined the nature of their work
January 18th, 2020 12:30 PM to 2:30 PM
The White Haus




17 Farringdon Street




London

,

EC4A 4AB




United Kingdom