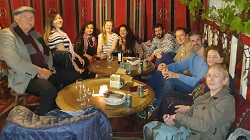 Our Midlands division thought it would be an excellent idea to enjoy some of Coventry UK City of Culture events that celebrate different worlds, communities and heritage experiences. Last Saturday 28th September Coventry was exhibiting a bridge where acrobats and actors performed around this structure to bring people together and bridge divides. We met at Las Iguanas to have a drink together and get to know each other as there were some members who were joining us for the first time. We could see the Bridge from our seats and such a creative atmosphere enhanced our conversation as we discussed work, challenges and different professional or personal paths.
We continued the evening with a Middle Eastern dinner at a beautiful restaurant in Coventry where we sat in a Bedouin tent while listening to the rain. Arabic, Mandarin, Cantonese, Hakka, Spanish, or Polish were some of the languages used among our group of 10 interpreters, translators, teachers and partners who happily engaged in this event. We look forward to seeing you at our next event!
---
Right in the centre of Coventry, a bridge originally imagined by Da Vinci, is host to pop-up events which include circus acrobatics, dance, comedy, silent-disco style experiences, theatre and live music, inspired by local people's stories on the 'bridge' theme.
This amazing ensemble of artists is as international and eclectic as our CIOL Midlands group, presenting an open air performance at 8.30pm. This is a free outdoor performance, with no need to book.
We will meet at 5pm in Las Iguanas to wander around the daytime events at the Bridge, dinner will follow at 6.45pm in Habibi (Arabic restaurant) and those who can stay longer will enjoy the show at 8.30pm.
Watch https://youtu.be/Ww0bKIFuEUw for a trailer and more info on https://www.imagine-bridge.co.uk/see/coventry.aspx].
Please confirm your attendance so we can book a table for our dinner. Thank you and see you soon!
Programme
17:00 at Las Iguanas (This bar is in the same square where the events will be going on, Cathedral Lanes, Coventry CV1 1LL)
18:45 dinner at Habibi (142 Far Gosford St, Coventry CV1 5DY)
20:30 – 21:30 Open-air performance at Broadgate.
September 28th, 2019 5:00 PM to 9:30 PM
Las Iguanas




Cathedral Lanes




Coventry

,

CV1 1LL




United Kingdom