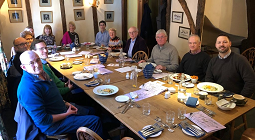 On Saturday 8 February 2020, Gareth Godley, former Site Manager for Axgro Foods (Agrial Fresh Produce UK), gave a very interesting talk to the Lincolnshire Society entitled 'The practical role of languages in a pan European business'. Agrial employs over 22,000 people and operates in fourteen countries. Gareth spent six years in the French cooperative, which required regular travel across western Europe and included a secondment in France (near Perpignan). His previous language experience was limited to a GCSE short course in Spanish; he described the way in which he started learning French and how he found having two tutors (native and non-native) really useful. Gareth explained the way in which learning is a personal process, how learning objectives are frequently unclear and indicators of progress are often unexpected. At Agrial, English is the nominated language of the business… but not, as he discovered, if you are in the minority in terms of language competence. At a senior level, all business units have a mix of (business relevant) nationalities and opportunities are awarded based on language proficiency. Gareth pointed out that English ranks third in the number of global speakers at 1.5 billion, but less than 400 million learned it as a first language!
The speaker talked about how language competence helps leaders to lead, why it is important to the business and also described the barriers to success. His message to employers was that if your operation is international, so should your talent be. Gareth thought that businesses should be able to recruit the best talent and then use a good programme built into the business people strategy, involving time to learn the language, time to practice and opportunities to operate.
Following the talk, the topic was discussed by the attendees over lunch and the speaker answered questions.
Candia Hillier DipTrans MCIL
Chairman of the Lincolnshire Society
---
Gareth Godley gives insights into his experience of learning a language as an adult to facilitate communications with colleagues in both France and England. He will also highlight the main difficulties a company faces in dealing with its language needs and outline some of its successful strategies for recruitment and training.
The talk will begin at 12:15 pm and will be followed by a networking lunch for attendees (in The Steep Hill Room), at their own expense.
Speaker bio
Gareth Godley
After completing a month's secondment in the south of France, Gareth joined Agrial in 2014 as a Site Manager at Axgro Foods (a fresh produce business) and his role frequently involves European travel. He is keen to further his international experience with the firm and believes improving his French language skills will facilitate this goal.
An avid snowboarder and mountain biking enthusiast, Gareth regularly enjoys trips to the French Alps, where he has the opportunity to put his budding language skills to the test outside a business environment.
February 8th, 2020 12:00 PM to 4:00 PM
Steep Hill Room




Wig & Mitre


30 Steep Hill


Lincoln

,

LN2 1TL




United Kingdom
Events +
| | |
| --- | --- |
| Category | Lincolnshire Society |
| | |
| --- | --- |
| Event image | |