Event report
Rodney Mantle, most impressive in his university gown and hood, welcomed 22 members and guests to his old college on a fine sunny morning. He escorted us to the Langford Room, overlooking the gardens, which were just starting to become beautiful after the winter. Rodney told us that the college was founded by the Bishop of Lincoln in 1427 and named after his cathedral in Lincoln. One of the oldest colleges, it was also one of the first to provide its students with hot and cold running water in their rooms! It now has 300 undergraduates and the same number of postgraduates. Rodney was assisted by 5th year medical student Amelia Shard in guiding the group round the beautiful college buildings and "quads" (courtyards), including the Wesley Room – Charles Wesley having been a fellow of the college from 1728 to 1751. Other distinguished fellows have included Howard Florey, who was involved in the early development and testing of penicillin, following its discovery by Alexander Fleming. In the chapel we saw a remarkable Flemish painted glass window, depicting Jonah and the whale. The college library – a former church – was most impressive. In the elegant Beckington Room a delicious lunch was preceded by Rodney's rendering of the Lincoln College Latin grace. We moved to the Oakeshott Room to hear a stimulating talk by Dr Alexis Radisoglou, entitled "Aesthetics and Politics". Many thanks are due to Rodney for the tremendous amount of work he did to ensure that the visit was as fascinating and rewarding as it was.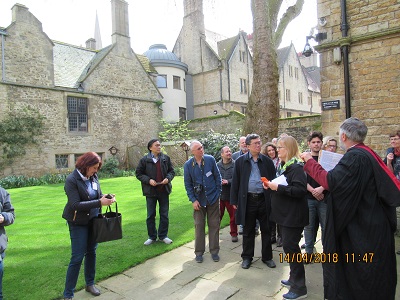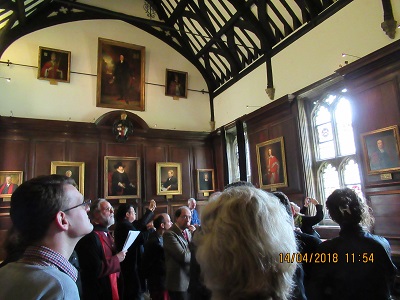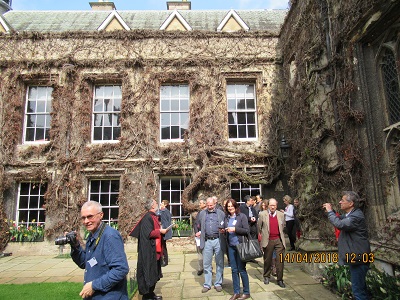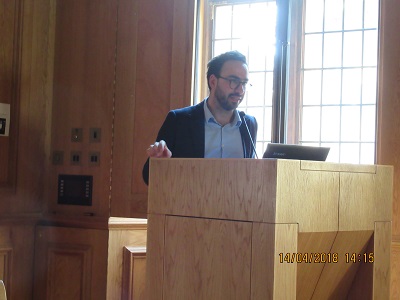 Programme
11:00am Coffee/Tea
11:30am Guided tour of Lincoln College
12:30pm Lunch (two courses)
2:00pm Talk and question time
3:30pm Tea/coffee and Chair's address about the BPG
---
The main event will be a lecture on Aesthetics and Politics by Dr. Alexis Radisoglou, Montgomery-DAAD Fellow in German Studies at Lincoln College.
The visit will also include lunch, refreshments and a tour of Lincoln College. The tour will be led by Rodney Mantle FCIL and a student guide.
Participants also have the opportunity to explore Oxford before and after the event.
Speaker bios
Dr Alexis Radisoglou
Alexis began as an undergraduate student at Oxford, reading Modern Languages and Literatures at St Edmund Hall. He moved to the United States for his postgraduate studies, in 2015 he received a Ph.D. in German and Comparative Literature from Columbia University in New York.
In 2016 he joined Lincoln College as the DAAD-Montgomery Fellow and Tutor in German Studies.
Alexis' research focuses on 20th century and contemporary literature and culture, with a particular emphasis on the interplay between aesthetic production and political thought.
Rodney Mantle FCIL
Rodney graduated from Lincoln College, Oxford in 1965 with a BA in German and French and went on to Glasgow University to write a dissertation on Bertolt Brecht.
A former member of Council, Rodney had a career covering Broadcasting, teaching at tertiary and secondary levels, before retiring to work for ten years in China. There he taught at universities, factories and commercial colleges in Dalian, Shanghai and Shenzhen.
April 14th, 2018 11:00 AM to 4:00 PM
Lincoln College




Turl St




Oxford

,

Oxfordshire

OX1 3DR




United Kingdom
Events +
| | |
| --- | --- |
| Category | Hong Kong Society |
| | |
| --- | --- |
| Event image | |