Event report
What's in a (UN) acronym? UNOV, UNIDO, UNOOSA, UNCITRAL… these were just a few of the acronyms with which members of the CIOL were regaled during the Business Professions and Government Division's "Waltzing through the UN" event.
The principal speaker was Rodney Mantle FCIL, who following a distinguished career in languages with the BBC and FCO as well as in the education sector, is now much involved with the Richmond and Twickenham Branch of the United Nations Association (UNA).UNA functions as a 'critical friend' of the United Nations (UN), by offering both support and constructive criticism, and by involvement in humanitarian issues both at home and overseas.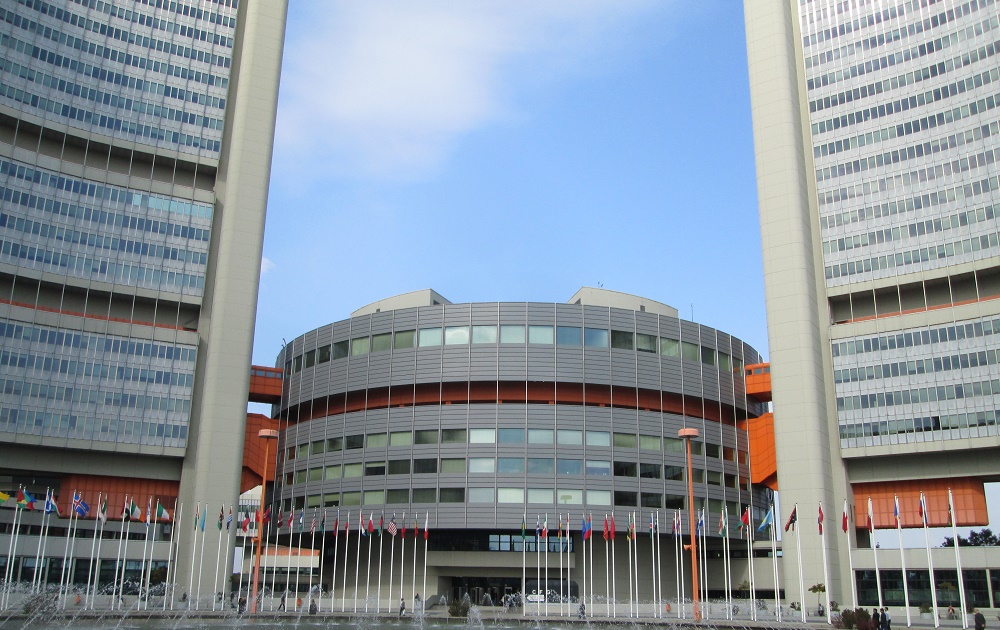 Joining Rodney were Ravi Kumar and Gillian Briggs, respectively Chair and Joint Secretary of UNA Birmingham. Both provided fascinating insights into their work and public meetings, provoking interest and lively discussion.
Those who have wandered the streets of Vienna would have been delighted and fascinated by the principal presentation. Basing his talk on a UN study tour to Vienna in which he participated in 2015, Rodney led the delegates through Tourist Vienna, Modern Vienna, UNOV – the United Nations Office in Vienna – and the OSCE. Few of those present would have known that the Vienna International Center (VIC) houses nine UN departments, each with their own specific objectives to make the world a better place.
This 'virtual tour' of the VIC included UNODC – United Nations Office on Drugs and Crime, which works with national governments to restrict or eliminate drug trafficking and associated crime, and INCB – International Narcotic Control Board; UNIDO – United Nations International Development Organisation; UNOOSA – United Nations Office for Outer Space Affairs (who would guess how many legitimate space objects are orbiting above us, not to mention the many thousands of items of space debris?); and UNCITRAL – United Nations Commission on International Trade Law. The summary of their roles provided by Rodney served as a testament to the humanitarian purposes of the UN which, though often unreported and unrecognised, works to make the world a better place.
After the presentation, a summary paper relating to use of linguists at the UN was circulated, with thanks to Rodney Mantle FCIL, Alison Garne MCIL and David Wardrop of Westminster UNA for the preparation of the document.
Delegates had the opportunity after lunch to hear an inspiring update on CIOL developments from Jane Galbraith, Head of Membership, from which a lively discussion of chartership ensued. Networking opportunities during the day ensured that new contacts were made and new friendships forged – which must surely be in tune with the theme of 'universal understanding' at both CIOL and UN.
Judith Ridgway FCIL
Chair, BPG Division
Original listing
The event at this central Birmingham location, a short walk from New Street Station, will focus mainly on the work of the many UN agencies and the OSCE in Vienna, with special reference to the linguistic challenges they face. Behind agencies with strange acronyms such as UNCITRAL and UNOOSA lie many fascinating stories.
The speaker will be Rodney Mantle FCIL, Chairman of the Richmond & Twickenham branch of the United Nations Association.
There will also be opportunities to discuss the new Membership Pathway with Head of Membership Jane Galbraith, and to network with members.
Members of the Birmingham UNA will also be present.
Refreshments will be available all day and a buffet lunch will be served.
February 18th, 2017 10:30 AM to 3:00 PM
The George Fox Room




The Priory Rooms




Birmingham

,

B4 6AF




United Kingdom
Events +
| | |
| --- | --- |
| Category | Business, Professions & Government Division |
| | |
| --- | --- |
| Event image | |