"In our Coventry homes we speak with an accent exceedingly rare. You want a cathedral? We've got one to spare" (Coventry City Football Club song)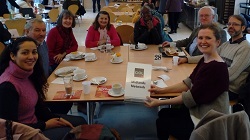 The idea that the Coventry accent is "exceedingly rare" and difficult to identify (and the fact that this is sometimes a source of pride to locals) was one of several ideas or assumptions about the Coventry accent that our speaker, Dr Christopher Strelluf of the University of Warwick, discussed and challenged in his talk at the Coventry Archives. Locals in the audience were visibly distressed at his revelation that the Coventry accent, when studied under the lens of linguistics, is actually very similar to the Brummie and Black Country accents.
Dr Strelluf also traced some linguistic features that are often cited as examples of "bad" or "lazy" pronunciation among young people, such as /h/-dropping and /t/-glottalisation, and found that they were more common among the older speakers of the Coventry accent (those born in the 1920s) than younger ones (those born in the 1950s). Throughout his talk, Dr Strelluf stressed how our ideas about accents, dialect and identity are social evaluations rather than reflections of facts about language. He demonstrated how the scientific study of language, using methods such as the acoustic analysis of phoneme pairs, enables us to examine those attitudes and trace the historic, economic and geographical factors that influence an accent over time.
The venue for the talk was the Coventry Archive, which is a treasure trove of information on the history of Coventry and its citizens from medieval times to the present. The huge range of original documents includes books, maps, newspapers, electoral registers and building plans, but on this occasion we were interested in its collection of reel-to-reel recordings of interviews with Coventry miners which serve as a rich cultural, social and political record as well as a linguistic resource.
For members of the CIOL Midlands Network, the talk was an opportunity to revisit the foundations of linguistics, which many of us have studied and which underpin our daily work but we perhaps don't study or read about in such depth any more. Over lunch, we discussed the issues raised in the talk, our own attitudes to accents and the challenge of getting to grips with different local accents and dialects in a foreign language. It was, as always, a lovely opportunity to get to know other professional linguists from the Midlands, including both new and familiar faces, and to share the interest in language that inspired all of us to pursue careers in languages.
---
Linguistics is the scientific study of language. Dr. Christopher Strelluf of the University of Warwick uses the treasure trove of old sound recordings in the Coventry Archives to show what English in Coventry was like for people born in the community in the late 1800s and early 1900s.
This includes words, sounds, and grammatical features that make the "Coventry Accent" unique, and provide a foundation for English spoken in Coventry today. En route to describing English in Coventry, Dr. Strelluf will introduce methods and principles of linguistic analysis, revealing some of the ways linguists study language to reveal its fascinating complexities.
Members of the Midlands Network will meet to attend Dr Strelluf's talk, followed by lunch at the Herbert Gallery café. The talk is free to attend. Each person pays for their own lunch/refreshments.
Please email midlands@ciol.org.uk or let us know via Facebook or Twitter if you plan to come.
---
Event listing: https://coventry2021.co.uk/event/coventry-accents-in-coventry-archives/

November 9th, 2019 10:30 AM to 12:30 PM
Herbert Art Gallery & Museum




Jordan Well




Coventry

,

CV1 5QP




United Kingdom