CIOL seeks four new members of Council – nominations now open
At the Annual General Meeting of CIOL, to be held on Saturday 10 March 2018, the following members will be stepping down from Council, CIOL's governing body:
Dominic Brett MCIL                          
Tom Gale MCIL                
Christine Pocock FCIL    
Judith Ridgway FCIL                       
We are therefore seeking nominations from Associates, Members and Fellows who wish to join Council to fill the four vacant places. All nominations must be supported by two members who must also be in the grade of Associate member or higher.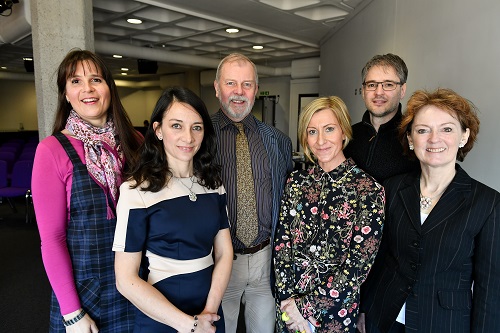 "Being involved as a Council member has enabled me to get right into the heart of languages" said Judith Gabler FCIL, CL who was elected last year. "In my first 12 months I have contributed to the shaping of CIOL's vision and global strategy, and I have had the opportunity to share knowledge with like-minded linguists and being on Council has provided that rich feeling of giving something back to the language profession. It's been challenging, it's been informative but it's also been deeply rewarding and a lot of fun."
If more nominations are received than places available CIOL will hold a competitive election.
Before completing the form, members are advised to read the

Guidance notes for candidates and Nominees and the FAQs below.
As an equal-opportunity organisation CIOL welcomes nominations from the widest possible range of Associates, Members and Fellows.
FAQs
At present Associates, Members and Fellows (defined as Voting Members in the Rules) are eligible to stand for Council.
Yes, but your nomination must be supported by two voting members i.e. members in the grade of Associate or higher.
You should speak to the member concerned to ensure they wish to be nominated. The member will then need to obtain a second supporter in order to stand for election. Once two members are willing to support the nomination, the member standing for Council will need to complete and submit the nomination form.
No, only voting members can stand for election, i.e. members in the grade of Associate or higher.
No, only voting members can stand for election, i.e. members in the grade of Associate or higher.
The members nominated will be automatically elected to Council at the AGM to be held on Saturday 10 March 2018.
CIOL will run a competitive online election. All voting members will be invited to vote, voting will open on Friday 12 January 2018 and will close on Friday 9 February.
Yes; please request a form by emailing membershipteam@ciol.org.uk. Please note that you should send your completed nomination form to the appointed scrutineers by special or recorded delivery. CIOL cannot be held responsible for nomination forms which do not reach the scrutineers or are received after the closing date.
At its meeting on 21 October, CIOL Council re-appointed Electoral Reform Services Ltd. to be the scrutineers for the Council Elections 2018.
If you complete the online nomination form, your nomination will automatically be sent to the scrutineers. You will receive an email confirming safe receipt of the nomination form.
If you have requested a paper form, this should be sent by recorded or special delivery to the following address:
Electoral Reform Services
The Election Centre
33 Clarendon Road
London N8 0NW
United Kingdom
If you are posting your nomination form, please allow plenty of time as we have had incidences in the past where forms have not reached the scrutineers or have arrived after the closing date.
All nomination forms, sent electronically or by post, must be with the scrutineers by 5:00pm GMT on Friday 1 December 2017. Nominations received after this date/time will not be accepted.
Once the deadline for the receipt of nominations has passed, CIOL's Head of Membership (or nominated representative) will let you know how many nominations have been received and whether or not a competitive election is required.
If an election is required, you will be asked to submit a Candidate Statement (mandatory) and a photograph (optional) by Friday 15 December 2017. Your photograph (if provided) and statement will be shared with the voting members as part of the election process.
Yes, the more members who vote the better! CIOL will be regularly reminding members to cast their vote and will remind members of the closing date.
The results will be announced at CIOL's Annual General Meeting scheduled for Saturday 10 March 2018, at the QEII Conference Centre in central London.