Connecting the world of languages online
Our first ever online conference was a huge success! Here are just a few quotes from our delegates:
"If this fascinating and in depth conference didn't fuel your appetite for language learning, appreciation for language professionals
and joining CIOL, then I don't know what will!"
"Huge thanks to CIOL – and all the fantastic contributors – for three days of engaging and highly informative presentations."
"Fantastic speakers and excellent, well-planned sessions. See you in 2022!"
If you feel like you've missed out, don't worry – you can still experience our online conference with our recordings which are now available for all to purchase.
The costs of all three days of recordings:
Members: £120
Non-members: £150
The conference sessions were delivered by industry experts and cover translation, interpreting, education, business and much more. Scroll down to see the full details and click the link below to purchase the recordings today.
All sessions:
Day 1: 10.00 – 10.45

Linguists: Pathways to Employability and the Future of the Profession 
By Reza Navaei
Developments of global magnitude have accelerated the pace of change in the job market, leading to some anxiety about employability and the future of the profession among budding and veteran linguists alike. Laying out the disruptive factors, along with key skills and attributes that will be at a premium in the future, Dr Reza Navaei draws on existing employability prediction models to explore pathways for successful participation of linguists in the labour market, focusing on continuous adaptation of skill sets.
---
Day 1: 11.00 – 11.40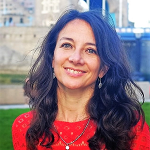 Interpreting in the private sector: challenges and opportunities of working with direct clients
By Jaquelina Guardamagna

While a Project Manager in an agency would say: "Please confirm your availability for the following project:
Interpreting: Consecutive interpreting
Languages:   English and Spanish
Date:             11 March 2021
Time:             11:00 to 12:00
Topic:            Sustainable development
Rate:              £ TBC",
an end-client may say:
"We need a real time translator for an online meeting about a forestry project we are funding in Argentina". "Would you be available on 11 March at 11:00 and what are your rates?"
Now it is your turn to spot the differences.
How much room for negotiation is there in each of those situations? Are you prepared to invest time, effort and money to attract direct clients?
If you are, join me on 11 March at 11:00 for a dynamic online session about the main steps you need to take in order to overcome the challenges, and enjoy the benefits of working with direct clients in the private sector.
We will analyse key processes for client acquisition and empathetic communication, leading to a win-win scenario for you and your direct clients.
---
Jaquelina Guardamagna is the founder of translation, interpreting and internationalisation consultancy 'Translator in London', a member of CIOL Council and Chair of 'The Linguist' Editorial Board.
Upon completion of a five-year BA Degree Course in Translation (UNC), Jaquelina was awarded a scholarship to study Academic English, Cross-cultural Communications, Translation, and International Relations at the University of Westminster in the UK.
With a certificate in Translation for Media [Distinction] from City University, Jaquelina worked as a translator and interpreter on live television at 'This Morning Show", ITV, ITN, RT and as a subtitler for the documentary of Diego Maradona by Oscar-Winning Director, Asif Kapadia. She has also offered consecutive interpreting in boardroom meetings with Vice-Chancellors of top UK and Latin American Universities.
For over 13 years, Jaquelina has been facilitating relationships between English and Spanish speakers in training courses, business negotiations, trade fairs and, most recently, online meetings in the Academic, Corporate, Media and Sustainability sectors.
Since 2015, Jaquelina has been sharing her advice on good business practice through seminars at the Language Show, BP Conference, E-CPD Webinars, the first CIOL Conference and through published articles and written guidelines.
In 2020, Jaquelina was featured as the first translator to win the #Ialso100 award for female entrepreneurs in the campaign run by  F:Entrepreneur UK.
Day 1: 11.40 – 12.25

Embracing Technology: the evolving role of translations
By Maria Strange
Machines can simulate translations at a level of sophistication which mimics that of a human translation. The Turing Test might grant an intelligent behaviour to Machine Translation, however the machine can't translate. Translation involves a complex process of comprehension which Machines cannot perform.
Although Natural Language has a logical process that can be formulated into machine language, it also has a rhetorical ambiguity which makes it difficult for a machine to interpret meaning. Computational approaches have devised procedures for the transfer of grammatical, syntax and lexical rules at sentence level. However, the semantical interpretation of the complete text is still a challenge even with the new advances in Machine Learning.
On the other hand, translating has developed new purposes within global communications which the human translator cannot satisfy without this emerging technology. Only the European Union translates an average of two million pages a year, Transperfect claims to process ten billion words annually, while Facebook states they generate nearly six billion translations per day.
The solution is not to establish a dichotomy of Machine Translation versus Human Translation. The answer is for the translator to work in synergy with the Machine to serve the new role of translations upholding the human quality the Machine cannot offer. Otherwise, Machine Translation will try to facilitate this role with a formulated language which will neglect natural comprehension of the text.
---
I am a Chartered Linguist with the Chartered Institute of Linguists. I have a degree in Applied Linguistics, a PG Dip in Business Administration and an MA in Online-Education. I trained as a Translator at EADS-CASA in Madrid. In 2001, after having worked a few years as an in-house translator in England, I established myself as a freelancer. Since then, I have gained extensive experience with translations, proofreading, transcreation, foreign communications, language training, translation project management, translation technology, and content creation in foreign language. I have translated websites, marketing content, technical manuals, legal documentation, academic articles, institutional reports, insight surveys, and promotional literature etc. I have prepared translation revision reports and have helped to run large translation projects. I have also taught Spanish in colleges and in-company. Currently, I am working on my PhD in Translations while trying to develop a new path writing about translations and linguistics.
Day 1: 13.00 – 13.40

So you want to be a translator…
Vasiliki Prestidge
…but. Let me stop you right there. If you want to be one, you will be one. Whether at the start of your journey, or the end of your degree, join me in this rapid-fire 40-minute presentation of honest, down-to-earth advice and tips. From qualifying, getting your first client and breaking the no-experience barrier to marketing, business plans, cultivating your inner entrepreneur, and developing a mindset for success, this short talk will leave you a little overwhelmed yet energised and motivated to put everything you've learnt into practice and reap the results. Don't forget to bring your questions.
---
Vasiliki Prestidge is a translator, interpreter, transcreator, and Director of Greek to Me Translations Ltd. She works with English and French into Greek and specialises in legal, marketing, and psychometrics. A Chartered Linguist, she is a member of the Chartered Institute of Linguists and the Institute of Translation and Interpreting. She is registered with the Greek Consulate as a certified translator and interpreter. She is an Associate Lecturer in Legal Translation and in  Translating for International Organisations (at London Metropolitan University, a public speaker, and writer for industry magazines. She has a BA in English and a MA in Business Translation and Interpreting. She a Steering Group Member of the CIOL Translating and Business Professions and Government Divisions.
Day 1: 13.40 – 14.20

Diversification in the Language Profession
By Carina Balbo and Hugh Ottewell
We often hear people say that "variety is the spice of life". Changes in technologies, procedures and requirements can certainly make our lives quite "spicy", and these challenging times have definitely spiced things up.
Many within the language profession are freelancers: translators and interpreters, and although some language teachers do work on a freelance basis, most of them work in schools or universities.
Institutionalised professionals are likely to be kept up to date by their employers, but freelancers often work on their own and must learn to adapt and ensure they remain current.
Diversification in work is a wonderful approach to achieving a healthy balance between all the activities that we do while trying to lead a successful and fulfilling life.
Adding variety to what we do to earn a living can have a hugely beneficial impact on us at many different levels; developing areas in which we want to grow, as well as maximising areas of strength.
In this talk we will discuss the wide range of areas in which any language professional can operate and stack their skill sets in a diverse and fruitful way.
---
Carina Balbo – Managing Director of My Language Hub
A linguist and educationalist at heart, from an early age, Carina's love for languages led her to pursue a degree in Translation and in Teaching English as a Foreign Language at the National University of Córdoba, Argentina. She worked part-time as a freelance translator and full-time as a teacher of English and English Literature, and an assistant lecturer at the National University of Cordoba.
After moving to the UK in 2002, Carina started working full-time as a freelance translator while finishing her MA in Applied Linguistics & TESOL (University of Leicester) with a dissertation on Bilingualism. A few years later, she was awarded an MA (Merit) in Management by the London Metropolitan University with a dissertation on Total Quality Management in Secondary Schools. Carina is Certified Localisation Professional, a Member of The Chartered Institute of Linguists (CIOL), and a Chartered Linguist as a Translator and in Education. She is also an elected Member of the CIOL Council, and an avid mentor of fellow linguists who need some guidance and direction in their language career.
Carina combined 25 years' experience in the translation profession and in foreign language teaching and co-founded My Language Hub with her husband, a language service company based in Hertfordshire, UK.
Carina has recently published a textbook that prepares students for the IGCSE exam in First Language Spanish, and she is currently writing a course for linguists and language professionals who wish to make a career pivot into the translation and interpreting profession.
Hugh Ottewell – Executive Director of My Language Hub
A former British Army Infantry Officer, Hugh initially gained his experience and knowledge of all things Hispanic by means of a degree in Spanish and Latin American Studies.
A fluent Spanish speaker with working French and a knowledge of Portuguese, he has developed a wealth of cultural understanding of the Hispano-Luso world. Hugh is also a Member of the Chartered Institute of Linguists and a Chartered Linguist (CL), as well as a Spanish examiner for the International Baccalaureate, AQA, and Cambridge International Examinations.
He passionately believes that high quality translation and language delivery are essential elements for the global market.  Hugh feels that it is not just what you are saying but how you say it that really counts.  He underpins the concept that technology can assist enormously but the human factor will still provide the necessary polish required to produce first class products.
As the Executive Director at My Language Hub Ltd., Hugh is in a unique position to confidently guide clients in whichever language need they require specialist support.
Recently, Hugh became the Chairman of the Business Improvement District (BID) for his hometown, Letchworth Garden City.  This role enables him to understand the demands on business in the local environment.  As a voluntary position, this allows Hugh to assist in directing efforts to bolster the resurgence of the Town Centre as an attractive location for both business and pleasure.
Day 1: 14.35 – 15.15

Looking after your most valuable business asset - yourself. Health tips for linguists.
By Ignaty Dyakov
I will be sharing my holistic health model, inspired by modern science and traditional Ayurveda, - MEALS (movement, eating, application, love, sleep) to enhance one's wellbeing. We will be talking about simple steps one can take to be healthy, have enough energy throughout the day, and minimise risks of getting chronic diseases. After all, as freelancers, we can rely only on ourselves and thus must stay strong, positive and balanced. Health has been overcomplicated in the past three decades - it needn't to be. It is all about speaking the same language as our body, so let's re-learn this language together in this practical session.
---
Ignaty Dyakov wears several hats (apart from a deer-stalker and a faux-fur Russian hat). He has authored a series of unconventional Russian and ELT textbooks, which help students learn grammar and vocabulary through fun-to-read detective stories. They are now used at universities and schools all over the world.
A Chartered Linguist and the founder of the linguistic consulting company Russia Local, he helped international SMEs and organisations work with Russian clientele and expand into the Russian market.
In recent years, after he qualified as a life and health coach and Ayurvedic consultant, he has set up a health and wellbeing coaching practice in Warwickshire. He works on a one-to-one basis, delivers talks and workshops and writes articles on a holistic approach to health, complementary therapies and coaching methods. More information can be found on www.lifesensei.uk.
Day 1: 15.15 – 15.55

Working as a tour guide with languages
By Tess Pike
A linguist's perspective on working with languages as a Blue Badge Tourist Guide, a demanding but highly rewarding career that is a perfect complement to working as a translator and interpreter.
It's a career that requires excellent communication skills and plenty of energy, and Tess looks forward to sharing an insight into her guiding world.
---
Tess Pike is a German linguist living in Cumbria, who worked as a translator and interpreter for several years before training as a Blue Badge Tourist Guide 25 years ago.  The qualification has been the key to a rewarding career that has led down a variety of fascinating avenues.
Day 2: 9.45 – 10.25
A vision into professional qualifications
Bernardette Holmes MBE
Chair of Educational Trust Board / CIOL Qualifications
Day 2: 10.25 – 11.05

Psychological Capital and Sustainability in the Language Professions
Dr Severine Hubscher-Davidson
The Sustainable Development Goals (SDGs) published in 2016 aimed to create a people-centred and aspirational development agenda. Of particular relevance to the language professions, are the third and eighth SDG goals which promote well-being and decent work, alongside economic growth. Taking care of one's physical and mental health has thus become a key concern for working professionals. This is no easy task, however, in today's competitive business environment where occupational stressors are rife. To maintain their psychological health, linguists need to be able to draw on—and optimize—their personal resources, a process problematized in terms of psychological capital in the organizational literature. Indeed, linguists' psychological resources can be viewed as a kind of 'capital' that can lead to successful performance and competitive advantage in the workplace, alongside their intellectual, social, and cultural resources. In this lecture, the concept of psychological capital will be introduced and illustrated as a powerful tool that can affect linguists in the workplace. Combining psychological research and the stories of professional translators, I will explore the value of this concept for the sustainability of the language professions.
---
Dr Severine Hubscher-Davidson has a PhD in Translation Studies (University of Bath), an MA in Translation and Interpreting (University of Bath), an MSc in Psychology (Open University), a PgCert in Higher Education Practice and Research (University of Salford), and a BA in French and Spanish (University of Kent). Before coming to the Open University, she lectured in French, translation and interpreting at the Universities of Salford (Greater Manchester) and Aston (Birmingham). She also has several years of experience of working as a freelance translator.
Her research interests are in the areas of translator's individual differences, emotions, and translation process research. She has published articles on various aspects of translation psychology, such as translators' intuition, personalities, ambiguity tolerance, and emotional intelligence. She has recently published an interdisciplinary monograph with Routledge on the topic of translators' emotions.
She is a Senior Fellow of the Higher Education Academy and a member of the international research network TREC, a Thematic Network on Empirical and Experimental Research in Translation. She is also an editorial board member for the Taylor and Francis journal Perspectives - Studies in Translatology, and was an Expert Observer on the 'Creating a Common European Framework for Translation' project.
Day 2: 11.20 – 12.00

"Breakfast at Tiffany's" 4000 hours of online language tutoring experience
By Romana Sustar
Starting with no experience at all of online teaching in 2013 and ending with early morning breakfast sessions teaching the next Ambassador to Slovenia the presentation will focus on my experiences, learnings and progress.
I will discuss the shift from in person to online face to face tuition, and the recent trend for multi person webinar communication platforms highlighting best practices, do's and don'ts, and successful strategies in planning, executing and recording online training for qualified professionals and groups.
---
Romana Sustar is a multilingual digital marketeer, tutor and journalist. She has been teaching languages for over 20 years. At the moment she is teaching at the SSEES and FCDO. Since 2017 she is a CIOL Council Member and has become recently the Chair of the German Language Society.
Day 2: 12.00 – 12.40


Interpreting in the Mental Health Setting
By Sobrina Soloman
The talk will be about interpreting in the mental health setting.
Introduction to mental health.
Fundamental statistics and how it affects people nationally.
Brief examples of common mental illnesses/disorders and their description.
Brief description of types of mental health setting an interpreter may need to attend, i.e. talking therapy, mental health hospitals, forensic centres, child, and family centres etc.
Different types of treatment.
What a mental health professional is looking for in their patient and the different type of professionals an interpreter may encounter.
What you can expect to see, i.e. in mental health hospital (brief description)
How to prepare for mental health assignments.
Coping strategies after a traumatic interpreting assignment with brief examples.
Quality of a good interpreter in the field of mental health.
---
My name is Sobrina Soloman, and I am Level 6 qualified Bengali Interpreter and have been working as an interpreter for the past six years. As a second-generation immigrant, I understand the need for an interpreter and the difficulties our elders faced due to the struggles endured by language barrier.
Growing up, I was blessed to learn two languages fluently. My bilingual skills have always helped me to interpret for my parents and sight translate forms and letters. This inspired me at the age of 19 to complete a qualification in Advice and guidance which led me to become a Welfare Benefits Advice Worker. Working in and being a part of the multicultural London East End, my bilingual skills were highly in demand which continued to grow in my new role as a Health Development Officer.
I then completed a level 3 qualification and qualified as a community interpreter; this enabled me to acquire knowledge and understanding in the mental health setting as most of my bookings were based in this field. Since studying A level Psychology, I have always had an interest in mental health and this interest continued to grow as I started doing research by reading books around the topics I heard in my assignments. Eventually, I completed my level 6 diploma in community interpreting and specialise in Mental Health as well as all the legal settings.
Day 2: 13.30 – 14.10

Media 'Translating': a hybrid discipline
By Karl McLaughlin
Globalisation and Increased mobility, both physical and virtual, have led to a significant increase in the number of printed media catering specifically for foreign audiences. A hybrid discipline - a blend of translation, post-editing and journalism - has emerged which sees linguists called upon not just to translate source materials but adapt them to the needs and tastes of readers. This session by CIOL chartered fellow Karl McLaughlin will explore the nature of such work and outline the challenges of producing content for English editions of foreign newspapers and expat newspapers, both printed and online. The presentation is based on Karl's experience of working for newspapers/publications in Spain for over 20 years.
---
Karl McLaughlin is an experienced conference interpreter, having worked largely in the EU and diplomatic fields for many years. He has taught interpreting at a number of UK and European universities, including Bradford, Leeds and La Laguna (Spain), and is currently senior lecturer in Spanish Translation and Interpreting at Manchester Metropolitan University. He has served on the official interpreting teams at several Olympic Games, including Barcelona (1992), Beijing (2008) and London (2012), and has interpreted in many other sporting contexts down the years. A qualified football coach and a sports journalist, he worked as a pundit on Spanish TV's flagship Estudio Estadio football show during the 2016/17 season and was a football columnist in the Diario de Avisos newspaper (2011-2012). He also holds a PhD in Spanish 17th century literature.
Day 2: 14.10 – 14.45

Seeing the world through snippet view: an introduction to the translation of quotations
By Laura Bennett
Almost every translator working in the arts and humanities fields will at some point have been faced with a source text containing a quotation by another author. For many of us this is something that happens on a daily basis. The translation of quotations provides a number of challenges, including what approach to take, access to published sources, consistency and referencing. In this presentation I target translators working in non-technical fields, highlight challenging issues and suggest effective strategies for tackling quote-heavy texts. I will draw on examples from my own translation work, primarily in the field of art history and museums.
---
Laura Bennett has been a full-time freelance translator from French and Italian into English for eleven years. She specialises in art translation and holds an MA in Art History from the Courtauld Institute of Art. Her translation work includes catalogues for major exhibitions (most recently for the National Gallery, National Portrait Gallery, Tate Modern and Leighton House Museum), audio guide scripts and academic essays. She is an MCIL and MITI, as well as a member of MET (Mediterranean Editors and Translators), the Society of Authors and the Association for Art History.
Day 2: 14.55 – 15.35


 
Languages education: University, A-level and teaching
By Lewis Wells
This presentation will take the anecdotal perspectives of a recently departed school pupil in discussing the fundamental faults of the British education system as regards languages in schools. It will detail how young people in their tens of thousands forget and dispose of their languages and will address the systemic challenges with language teaching. It will finally outline a number of suggestive solutions, both conservative and radical in nature, necessary for a change in circumstances.
---
Lewis Wells is a second year undergraduate reading German and Spanish with beginners Russian and Serbian/Croatian at the University of Nottingham. He has been a Student Affiliate with CIOL for almost 2 years and enjoys developing his languages with an aim to eventually securing employment using them. He is passionate for education reform surrounding languages and helping to reaffirm their systemic importance post-Brexit.
Day 2: 15.35 – 16.15
Introducing SDL Trados Studio 2021
By James Thorogood
SDL have just released the latest edition of their market leading computer-assisted translation (CAT) tool, SDL Trados Studio 2021. Join this session to discover what a CAT tool is and how SDL Trados Studio 2021 and it's cloud companion SDL Trados Live in particular, can transform the way you work.
Day 3: 10.00 – 10.45

COVID-19, Brexit and Beyond
By Sue Leschen
The year 2020 kept giving, didn't it - but not in the nicest way!
CV-19 gave birth to a cancellation culture. Brexit at the end of the year was the final straw for many freelancers.
But all challenges give rise to opportunities and all risks are manageable if you only know how. Language professionals can still go to the ball in 2021 if they do these 3 things with their businesses:
Urgently reorganise them
Shock proof them
Run them so as to generate profit not loss
Don't know how? Let Sue Leschen show you how in her hands on "let 's help ourselves" interactive session.
---
Sue Leschen is a lawyer-linguist based in Manchester, UK, and is the Director of Avocate, a legal and commercial French language services company. She also offers training to language professionals and is a one-to-one business mentor. Sue is a member of CIOL Council, and a member of the Professional Conduct Committee of NRPSI and other interpreting and translation bodies, and supports the need for properly qualified, experienced, security vetted and insured professional interpreters and translators.
Day 3: 11.00 – 11.40

Preserving polyphony in translation
By Liudmila Tomanek
Polyphony, the term once borrowed from the domain of music to denote the presence of many voices within one novel, is becoming increasingly significant in modern writing. It has long spread beyond the boundary of literary discourse and nowadays can be widely found in politics, journalism and commerce.
As a result, translators are faced with additional challenges. How to identify each voice within a source text? How to render its individuality in translation? What is a voice?
These questions will be explored during the talk in the context of new research into preserving the polyphonic aspect for the target reader.
---
Liudmila Tomanek, MCIL CL, is a translator, founder of Russian Translation World Ltd, a committee member at the CIOL Scottish Society, and a PhD student at the University of Glasgow. Polyphony forms the core of her academic research. She read modern languages at Nottingham Trent University and holds MA in translation from London Metropolitan University. She passionately believes in the importance of continuous professional development and is grateful to CIOL for the ongoing professional support to linguists.
Day 3: 11.40 – 12.25

Getting to the Source - working in your source-language country
By Emma Gledhill FCIL Chartered Linguist

Considering moving to your source language country or already living there? There are both joys and challenges when you are no longer surrounded by your target language. Issues that wouldn't warrant a second thought in your native country can require a change in mindset. This session by Emma Gledhill will offer food for thought on risks to your target language and how to avert them, how to build a network from scratch, how to plan your CPD strategy and more.
---
As of February this year, Emma became a Fellow of CIOL, and is a Chartered Linguist. She has been translating from German, Dutch and French to English for nearly 30 years, both freelance and, most recently, in-house at a leading Swiss fintech. A CIOL mentor and member of the CIOL Brexit working party, Emma is also an FITI and a regular contributor to the ITI Bulletin. She has lived in Switzerland since the year 2000.
Day 3: 12.25 – 13.00

Business strategies for coping with static or falling rates of pay for translators and interpreters
By Ken Paver

Sick and tired of grinding away for the same money every year? Frustrated by intransigent, uncomprehending customers? Looking for ways to tighten up financial performance in difficult times? Translator/interpreter Ken Paver provides a series of suggestions – based on more than 30 years' experience as an in-house translation buyer, project manager and freelance – to help you combat the current situation and maximise the revenues that your expertise delivers for your business. The wealth of practical tips will cover areas such as optimising CPD so that it provides best value at minimum cost, targeting high-value customers while maximising output, and how to delight the customer every single time so that they are more receptive to your pricing proposals. The focus will be on practical, real-world business solutions to everyday problems faced by freelance linguists.
---
Kennedy ('Ken') Paver studied Modern Languages at Oriel College, Oxford, and translation and interpreting at the University of Kent at Canterbury. On graduating, he worked as an in-house translator and interpreter at British Nuclear Fuels plc in Warrington, UK, becoming Head of the Language Services Section, before setting up a business as a freelance translator/interpreter in 1991, operating mainly in the nuclear and conventional power generation sectors and related fields. He translates from French, German and Dutch into English, and offers French/English interpreting. He continues to work in the same sectors today, specialising in language services for nuclear safety reviews conducted by international bodies, and regularly working on-site at nuclear plants in several countries. Ken has led teams of translators and interpreters on various international missions, and has provided training to power station personnel and managers to help them prepare for safety reviews. He has also worked as a sessional lecturer, teaching specialised translation modules on the undergraduate and Master's Translation Studies programmes at Aston University between 2007 and 2010. Ken is currently a member of CIOL Council.
Day 3: 13.40 – 14.20

From 'Remote Interpreting' to 'Hybrid Meetings'
By Sarinya Wood
The unexpected arrival of Covid-19 forced many interpreters to consider remote interpreting. There was little or no time to consider whether interpreters had the right equipment, adequately trained, had suitable bandwidth or a quiet office from which to broadcast. It also became clear that few service providers had operated these virtual meeting platforms before. The pandemic made the move towards 'remote' inevitable. As we are slowly coming out of this unique time, the reality of returning to physical assignments presents itself. Could Hybrid Meetings therefore become the new norm for the interpreting world?
---
A specialist in Remote Interpreting, Sarinya acted as official FIFA interpreter (working remotely) for the Thailand National Football Team during the recent Women's World Cup FRANCE 2019. Appointed as official interpreter for the Creating Healthy Cities INT Event 2020, she then completed a number of medical webinar Remote Simultaneous Interpreting (RSI) assignments during the Covid-19 pandemic and is currently working on numerous Remote Interpreting assignments for diverse International clients.
Day 3: 14.20 – 15.00

Engaging and empowering the linguists of the future
Caroline Ardrey
As the United Kingdom withdraws from the European Union and university applications for Modern Languages show a year-on-year decline, the presentation of language learning and cultural engagement by the media can often seem bleak. Yet, despite the often dispiriting public perception of the value of language skills, reports by organisations such as the British Council highlight the pressing need for linguistic competencies in a post-Brexit climate. In addition, experts such as Prof. Neil Kenny of the British Academy have already stressed that strong language skills within the national workforce will be instrumental to the recovery of the UK economy in the wake of COVID-19.
We come together because we are passionate about languages, and we believe in the cultural, social and interpersonal importance of learning, speaking and enjoying diverse languages. Languages are thriving in our classrooms, our businesses and in our lives. This session seeks to pinpoint ways to tap into a real, if often hidden, appetite for developing language skills amongst young people; it focuses on areas in which we can build on existing successes, to work together to engage the linguists of the future. The session also considers how we can promote careers with languages in a way which works in synergy, rather than in competition with the ongoing emphasis on STEM in the sphere of education and skills development.
Through a series of case studies, this session celebrates the successes of language teaching and learning within the UK education sector. It explores the place of languages in the context of approaches to promoting diversity in schools, and in further and higher education settings. Looking at real-world examples, the session considers ways in which language learning links to a wider goal of placing diversity and inclusivity at the heart of the educational experience, including through movements to 'decolonise the curriculum'. In doing so, this session will demonstrate how positive experiences of language learning can empower young people to take ownership of their identity, fostering essential interpersonal and intercultural skills for the citizens of the future.
---
Caroline Ardrey is Lecturer in French at the University of Birmingham, where she is also Senior Undergraduate Admissions Tutor for Modern Languages. She has been a Senior Fellow of the Higher Education Academy since 2019.
Caroline holds a DPhil in French from the University of Oxford. Her academic research considers the interaction between nineteenth-century French literature and popular culture, including fashion, music and digital media. She brings this interest in popular culture and living languages to her undergraduate and postgraduate teaching.
Having completed a PGCE in secondary English teaching in 2015, Caroline is particularly interested in exploring ways to support students in managing the transition from school to higher education, in terms of study skills, academic presentation and personal development. Caroline leads a number of undergraduate modules in Modern Languages at Birmingham, including the practical module Language Learning in the Classroom, which offers second-year undergraduates a taster of languages pedagogy and seeks to promote careers in MFL teaching.